GEOSCIENCE BOOKS
Phillip Huber, Bookseller/Geologist
PO Box 1036, Faribault, Minnesota 55021
USA
RARE GEOLOGY BOOKS, EPHEMERA, MAPS AND RELATED ITEMS
Cuvier Georges Original Portrait from 1830s. Cuvier (1769-1832) is considered to the father of vertebrate paleontology and published many equally important works on biology and taxonomy of extant vertebrates. This portrait was executed by British engraver James Thomson as a book plate in the 1830s. Price: $40.00 (stock3Cuvport)
Hay O. P. 1929 – 1930 SECOND BIBLIOGRAPHY AND CATALOGUE OF THE FOSSIL VERTEBRATA OF NORTH AMERICA Carnegie Institution Publication #390 Two massive volumes, both in wraps overall light wear, minor chips, small stain to paper spine cover, blind stamp else contents clean and a very good set of a rather scarce and very important vertebrate paleontology reference. Vol. 1 with 916 pp., Vol. 2 with 1074 pp. While a prolific paleontologist in his own right, Hay took it upon himself to compile an exhaustive catalog of North American vertebrate fossils, often reassigning specimens to other genera, neglecting type specimens or lack thereof, designating lectotypes, etc.. which had the end result of causing 100 years of chaos, which still continues as the current generation of researchers works through the mess he created. Hence, this volume is a must have primary reference for the fossil vertebrate researcher and enthusiast. Price: $120.00 (stock#Hay2ndbiblio)
Owen D. D. 1857 MAPS AND ILLUSTRATIONS REFERRED TO IN VOLS. II AND III OF THE REPORT OF THE GEOLOGICAL SURVEY OF KENTUCKY KY Geol. Surv. These are the maps that accompany Volumes II and III of the First Geological Survey of Kentucky. They consist of maps and illustrations enclosed in a worn, soiled and string-tied portfolio, ex-library with cover markings, spine cloth missing, bookplate inside front cover. Maps #1-3 present, lacking Maps #4-6. All 10 lithographed plates present. The maps have a few small spots and are generally clean with some small splits at fold intersections. The plates have minor foxing and light offsetting, and generally are vg.
Price: $90.00 (stock#KY1857maps)
Owen D. D. 1861 KENTUCKY GEOLOGICAL SURVEY VOLUME 4 cloth as issued, chips to spine ends, corners rubbed through, scattered foxing but contents generally clean, vg, 617 pp., several figures, folding chart. Price: $100.00 (stock#KYGSOwen4)
Pumpelly R. 1873 ATLAS ACCOMPANYING THE REPORT ON IRON ORES AND COAL FIELDS Missouri Geological Survey, engraved by Julius Bien, NY. Folio, not bound as issued, original wraps, though some wear, tears to front wrap, more so to rear wrap. All 14 plates present, plate 1 has marginal tears and creases, the rest have a few mm area of rough margins along some map sheet edges but overall are very good. Note the plates are numbered 1-9, with several sheets numbered for example, like Plate 7, Plate 7A, Plate 7B, for a total of 14 sheets. Extremely rare, infact this is the only copy I've seen in 20+ years, and could not find any copies either for sale, or scanned for reference, online. Price: $450.00 (stock#PumpATL)
Ramsey Sir Andrew Crombie (1814-1891), British Geologist, original cdv portrait taken by Ernest Edwards, 20 Baker St. W. [London] circa 1860. Overall very good, a few spots to surface of photo. Rare. Price: $70.00 (stock#Ramseycdv)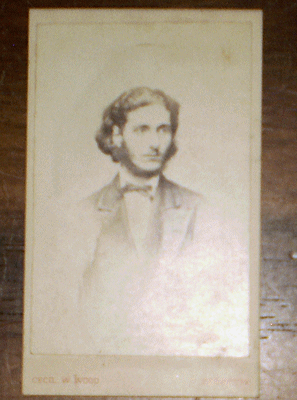 Sollas William Johnson (1849-1936) British Geologist and Anthropologist, original cdv portrait taken at age 22 and dated, Sept., 1870, by Cecil W. Wood, Brompton Photographic Studio, 190 Brompton Road, London S. W. Overall very good, light wear, light surface soiling from dust/light smudge. Rare. Price: $60.00 (stock#Sollascdv)
Worthin A. H. 1866 GEOLOGY Illinois Geol. Surv. Volume 1 spine sunned light exterior wear, private name stamp on fep else vg copy, 504 pp., plts, figs, hand-colored maps. One of the better copies I've seen as they are usually soiled and very worn. Much on mining and minerals of the Tri-State lead zinc & fluorspar districts.
Price: $150.00 (stock#ILVol1)