GEOSCIENCE BOOKS
PHILLIP HUBER, BOOKSELLER/GEOLOGIST
Post Office Box 1036
Faribault, Minnesota 55021
(507) 384-2553
ECHINODERMATA AND RELATED FORMS
Fay R. O. 1961 BLASTOID STUDIES Unv. Kansas, Paleont. Contributions Article 3, 4to, wraps with some wear, light dust soiling, contents vg, 147 pp., 54 plates, 221, figs. A classic treatise on blastoids. Price: $25.00 (stock#IPE119P)
Gill E. D. and Caster K. E. 1960 CARPOID ECHINODERMS FROM THE SILURIAN AND DEVONIAN OF AUSTRALIA Bull. American Paleont. #41 8vo, wraps inscribed by author, light corner crease/bump else vg, 60 pp. 10 plates of fossils. Price: $20.00 (stock#IPE111P)
Hall J. 1866 NOTE ON THE GENUS PALAEASTER AND OTHER FOSSIL STARFISHES preprint report from 20th Ann Rpt of the State Cabinet (NY) in plain wraps light wear, inscribed by author on title page, 23 pp., 1 plate. Scarce.
Price: $30.00 (stock#IPE126P)
Hall J. 1872 DESCRIPTION OF NEW SPECIES OF CRINOIDEA AND OTHER FOSSILS FROM THE HUDSON RIVER GROUP AND TRENTON FORMATION and DESCRIPTIONS OF NEW SPECIES OF FOSSILS FROM THE HUDSON RIVER GROUP OF OHIO AND TRENTON LIMESTONE OF WISCONSIN pre-print of reports included in the 1871 Report of the State Museum (NYSM) in wraps, some edge wear, contents with a small portion of p. 13 of text clipped out else vg, 26 pp., 4 plates. Price: $30.00 (stock#NY107P)
Moore R. C. and Laudon L. R. 1943 EVOLUTION AND CLASSIFICATION OF PALEOZOIC CRINOIDS Geol. Soc. America Special Paper #46 8vo wps with some wear, contents vg, 153 pp., 14 plts 18 figs. Price: $35.00 (stock#GSASP46P)
Spencer W. K. 1914-1940 A MONOGRAPH OF THE BRITISH PALAEOZOIC ASTEROZOA Parts 1-10 complete, published by the Palaeontographical Society, London. All 10 parts present as issued, in plain blue wraps with labels, all are good to very good, generally clean, a few mild/small, corner bumps, many pages unopened. With 540 pp., 37 plates, scores of figures. A supplement with table of contents and index was published in 1965 as an afterthought, and is not included here but unlike complete sets, easy to find. Rare. Price: $300.00 (stock#RAR103P)
Weller S. 1900 THE PALEONTOLOGY OF THE NIAGARAN LIMESTONE IN THE CHICAGO AREA THE CRINOIDEA Chicago Acad. Sciences Bull. 4(1) wraps with some wear, small presentation stamp from Weller with that of E. M. Kindle, content with light+ wear, but overall vg with 153 pp., 15 plates, 57 figs. Price: $30.00 (stock#IPE129P
FOSSIL VERTEBRATES
​
CONODONTS - FISHES - AMPHIBIANS
Colbert E. H. and Imbrie J. 1956 TRIASSIC METOPOSAURID AMPHIBIANS AMNH Bull. 110(6) wraps with light wear, contents vg, 54 pp., 4 plates, 20 figs. Price: $30.00 (stock#AMNHB110-6)
Lundberg J. G. 1975 THE FOSSIL CATFISHES OF NORTH AMERICA Unv. Michigan 4to, printed wraps, light wear, vg copy, 51 pp., 7 plates, 11 figs and mostly on specimens From the Green River and Bridger Formations and their equivalents. A classic report. Price: $20.00 (stockVPF22)
Smith G. R. and Kimmel P. G. 1975 FISHES OF THE PLIOCENE GLENNS FERRY FORMATION SOUTHWEST IDAHO and FISHES OF THE MIOCENE-PLIOCENE DEER BUTTE FORMATION, SOUTHEAST OREGON 4to, wps, some external wear, contents clean, vg, 87 pp., 34 figs. Price: $20.00 (stock#VPF61)
REPTILES INCLUDING DINOSAURS
Broom R. 1915 CATALOGUE OF TYPES AND FIGURED SPECIMENS OF FOSSIL VERTEBRATES IN THE AMERICAN MUSEUM OF NATURAL HISTORY PART II – PERMIAN, TRIASSIC AND JURASSIC REPTILES OF SOUTH AFRICA AMNH Bull. 25-2 wraps, light wear, pages unopened, 59 pp., 49 figs, folding map. Scarce.
Price: $30.00 (stock#AMNHB25-2)
Camp C. L. and Welles S. P. 1956 TRIASSIC DICYNODONT REPTILES PART I THE NORTH AMERICAN GENUS PLACERIAS PART II TRIASSIC DICYNODONTS COMPARED Memoirs Unv. Calf. 13(4) small folio, wps, light wear, vg clean unmarked copy, 93 pp., 4 plts, 62 figs. Price: $40.00 (stock#VPR10)
Colbert E. H. 1946 HYPSOGNATHUS, A TRIASSIC REPTILE FROM NEW JERSEY AMNH Bull. #68(5) wps, light wear, contents vg, 50 pp., 9 plates, 20 figs. Price: $25.00 (stock#AMNHB68-5)
Colbert E. H. 1948 THE MAMMAL-LIKE REPTILE LYCAENOPS AMNH Bull. 89(6) wraps light wear contents vg, 52 pp., 8 plates, 24 figs. Price: $20.00 (stock#AMNHB89-6)
Dinosauria. This is a bound volume of Proceedings of the United States National Museum that contains reports mostly on dinosaurs, with a few on fossil birds, other reptiles (i. e. Plesiosaurs by Williston; Dimetrodon by Gilmore; Basilosaurus by Lucas and more), and fossil mammals (By W. D. Matthew, Gidley and others). The volume is bound in cloth, from a private library, vg with clean contents.

The dinosaur content is as follows: Hay O. P. USNM Proc. #1660 ON THE SKULL AND BRAIN OF TRICERATOPS WITH NOTES ON THE BRAIN-CASES OF IGUANODON AND MEGALOSAURUS, 14 pp., 3 plts; Gilmore C. W. USNM Proc. #1666 OSTEOLOGY OF THE JURASSIC REPTILE CAMPTOSAURUS WITH A REVISION OF THE SPECIES OF THE GENUS, AND DESCRIPTIONS OF TWO NEW SPECIES, 108 pp., 14 plts, many figs, and much on Como Bluff; Gilmore C. W. NEW RESTORATION OF STEGOSAURUS USNM Proc. #2110, 3 pp., 1 plt, 1 fig; Gilmore C. W. ON THE FORE LIMB OF ALLOSAURUS USNM Proc. #2120, 13 pp., 7 figs; Gilmore C. W. OSTEOLOGY OF THESCELOSAURUS, AN ORTHOPODOUS DINOSAUR FROM THE LANCE FORMATION OF WYOMING USNM Proc. #2127, 25 pp., 4 plts, 20 figs; Gilmore C. W. THE TYPE OF THE JURASSIC REPTILE MOROSAURUS AGILIS REDESCRIBED WITH A NOTE ON CAMPTOSAURUS USNM Proc. #1519, 15 pp., 2 plts, 8 figs; Hay O. P. ON CERTAIN GENERA AND SPECIES OF CARNIVOROUS DINOSAURS, WITH SPECIAL REFERENCE TO CERATOSAURUS NASICORNIS MARSH USNM Proc. #1648, 15 pp., 4 figs; Gilmore C. W. THE MOUNTED SKELETON OF TRICERATOPS PRORSUS USNM Proc. #1426, 3 pp., 2 plts; Lucas F. A. A NEW DINOSAUR, STEGOSAURUS MARSHI, FROM THE LOWER CRETACEOUS OF SOUTH DAKOTA USNM Proc. #1224, 2 pp., 2 plts. Price: $100.00 (stock#VPR14)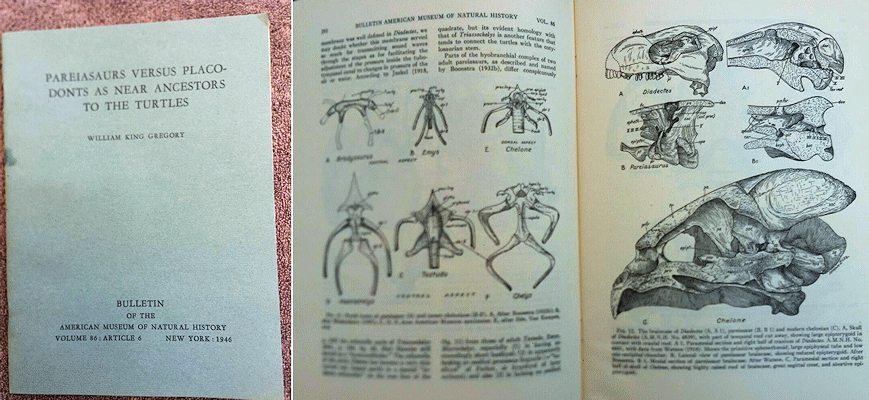 Gregory W. K. 1946 PAREIASAURS VERSUS PLACODONTS AS NEAR ANCESTORS TO THE TURTLES AMNH Bull. 86(6) wraps light wear, contents vg, 51 pp., 2 plates, 23 figs. Price: $20.00 (stock#AMNHB86-6)
Hatcher J. B. et al., 1907 THE CERATOPSIA USGS Monograph #49 4to, in congressional sheepskin binding, exterior with some wear, rubbing to bottom edges, front hinge tender but board holding, ex-lib with bookplate else contents clean and very good, with 198 pp., 48 plates, 2 maps. Also included and bound in Hollick A. 1907 THE CRETACEOUS FLORA OF SOUTHERN NEW YORK AND NEW ENGLAND USGS Monograph #50 with 129 pp., 40 plates. Scarce.
Price: $400.00 (stock#USGSM49-50)
Lockely M. and Hunt A. P. 1995 DINOSAUR TRACKS AND OTHER FOSSIL FOOTPRINTS OF THE WESTERN UNITED STATES cloth with dust jacket light wear contents vg, clean and unmarked with 338 pp., scores of figs and great sections on the Triassic Moenkopi and Triassic-Jurassic Chinle Formation and Glen Canyon Group.
Price: $30.00 (stock#VPT21)